( – promoted by buhdydharma )
Crossposted at Daily Kos
THE WEEK IN EDITORIAL CARTOONS

This weekly diary takes a look at the past week's important news stories from the perspective of our leading editorial cartoonists (including a few foreign ones) with analysis and commentary added in by me.

When evaluating a cartoon, ask yourself these questions:

1. Does a cartoon add to my existing knowledge base and help crystallize my thinking about the issue depicted?

2. Does the cartoonist have any obvious biases that distort reality?

3. Is the cartoonist reflecting prevailing public opinion or trying to shape it?

The answers will help determine the effectiveness of the cartoonist's message.
:: ::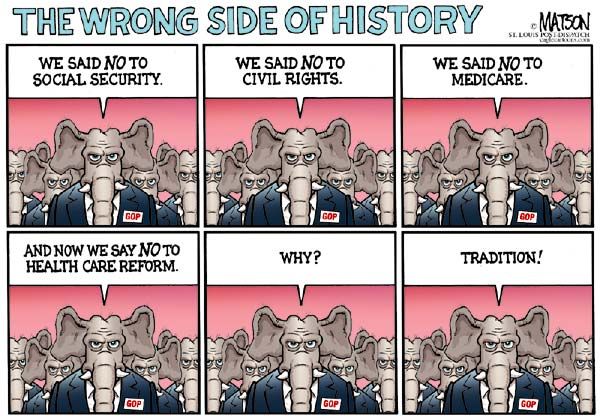 R.J. Matson, New York Observer, Buy this cartoon
INTRODUCTION
This has been an exhausting past year, as everyone knows. You all are familiar with the wide array of obstructionist tactics used by the Republican Party to derail any kind of Healthcare Reform. Aided and abetted by FOX News 24/7, financed by insurance and pharmaceutical companies, and supported by all kinds of crazy wingnuts, they still failed miserably.


Bruce Plante, see reader comments in the Tulsa World, Buy this cartoon
I wanted to share this email that I received from one of the cartoonists/designers at Cagle Cartoons (someone who also gave me permission a while back to use their editorial cartoons on Daily Kos) and it really summarizes what the GOP stands for
Cartoonist on the Ground for Tea Party Protest

Cartoonist Steve Hill was around Capitol Hill today and observed the Tea Party protest in action, including shouts of hateful and obscene bigotry aimed at intimidating certain members of Congress.

Here is his email

I'm in DC on vacation. With the historic vote tomorrow, I thought I'd run by my congressman's (he's against the bill) office and get tickets to watch. So I had to make my way through the Tea Bag crowd. I saw the usual Obama as Hitler, Obama as the Joker, Obama is Hitler/ Mussolini/ Socialist/ Facsist/ Communist and Obama in a coffin signs.

When I got to the Longworth Building, the Tea Bag crowd had moved from the Capitol grounds to the House office buildings. Representatives making their way out of the buildings had to make their way through the increasingly ugly crowd.

I was standing there when Barney Frank emerged and the guy next to me hollers "FAGGOT!" He was joined by several others with that chant. Frank walked right through the middle of the hillbilly gauntlet.

African-American Representatives were greeted by racial epithets. One woman yelled "You're not as safe as you think you are!"

Inside the buildings, police asked the Tea Bag bunch to stop shouting. They were basically shouted down.

I got an "amen" from a departing congressman when I said, "Can I get a 'yes' vote?" Those standing within earshot started yelling at me – calling me a "communist," "communist sympathizer" and the usual collection of cursing. The congressman got worse.

At that point, I decided to leave.
There's not much more that I can add to this first-hand account of the type of disgraceful bigotry and racism on display by supporters of the Republican Party. Some of these people desperately need mental help.
Hope you enjoy this week's offering of editorial cartoons. I'll post a few more in the comments section of this diary.
:: ::
1. CARTOONS OF THE WEEK: The End Game
:: ::

Ed Stein explains the Democratic strategy to pass Healthcare Reform

I heard a funny thing this morning. Republicans said that if the Democrats go ahead and pass health care reform by the process known as "reconciliation," or, to us laymen, a majority vote, it would make bipartisan cooperation more difficult in the future. This from the party that has made partisan obstructionism its only strategy since Obama was elected. What's especially galling is their claim that major legislation shouldn't be passed without bipartisan support when they have zero interest in contributing to the process. The GOP alternative to health care reform is the status quo, with minor tweaks that do nothing to solve the major problems. The same goes for financial reform. They're all for it so long as it doesn't protect the consumer or include any provisions that prevent the banks from ripping us off again. The genius of the Republican spin machine is that they package their contempt for the public with a populist message. They've somehow persuaded the people their policies have hurt the most (remember bank deregulation, tax cuts for the wealthy, pork barrel farm and highway bills, the Medicare doughnut hole, massive deficits on their watch-all the things that got us in this mess in the first place?) that they're on the side of the little guy.

Despite warnings from the right that if Democrats pass health care reform, they'll be destroyed in November, I'm of the opinion that they'll be rewarded by the voters for actually doing something, and that goes double for financial reform. Much of the anger at the Democratic party and Obama has to do with their failure to deliver, not with over-reaching, as the right wing choir has preached from day one. If they finally give up the hopeless pursuit of cooperation from the GOP and use their majority to deliver for the American people, much will be forgiven.


Jeff Koterba, Omaha World Herald, Buy this cartoon



Rainer Hachfeld, Neues Deutschland (Berlin, Germany), Buy this cartoon


Brian Duffy, Des Moines Register, Buy this cartoon



Mikhaela Reid, Freelance Altie Cartoonist, Buy this cartoon


Bruce Plante, see reader comments in the Tulsa World, Buy this cartoon



Adam Zyglis, Buffalo News, Buy this cartoon


Stuart Carlson, Universal Press Syndicate



Clay Bennett, Comics.com, see reader comments in the Chattanooga Times Free Press


Mark Streeter, Savannah Morning News, Buy this cartoon



Mike Peters, Dayton Daily News


Mike Thompson, Comics.com, see reader comments in the Detroit Free Press

:: ::

Thompson sees the decline of the Teabaggers as somewhat inevitable after their defeat

There was a tea party demonstration in Washington on Tuesday. I'm telling you about it because the antics of the tea party crowd have become old news and they don't generate the sort of media coverage they did last year when they brought town hall meetings to a screeching halt and stunned Americans with their outrageous protest signs. But there they were, in our nation's capital, screeching about how Big Government and the Roswell aliens were conspiring on the grassy knoll to pass a health care plan to control our children's brains and fluoridate our drinking water.

People will pause momentarily to watch a child throwing a temper tantrum in a grocery store. But eventually everyone moves on and the health care debate has moved beyond the tea party. Thankfully.


The Party Of No Problem by RJ Matson, Roll Call, Buy this cartoon



R.J. Matson, Roll Call, Buy this cartoon



Pat Bagley, Salt Lake Tribune, Buy this cartoon



Daryl Cagle, MSNBC.com, Buy this cartoon
:: ::
2. Historical Revisionism: The Rovian Lies


Jeff Darcy, Cleveland Plain-Dealer, Buy this cartoon



Monte Wolverton, The Wolvertoon, Buy this cartoon
:: ::
3. The Texas School Board: No Separation of Church and State
:: ::

Stein identifies the problem with the Texas School Board and its revisionist tendencies

Good old Texas, where I grew up. You can always count on the Lone Star State to do things with an in-your-face swagger. This time it's the audacious rewriting of history by conservatives on the Board of Education, which sets the curriculum for the state's schools. Texas schools buy so many textbooks that the book publishers often write textbooks to Texas' standards, however outrageous or deranged those standards might be. Those texts, alas, are bought, not just by Texas schools, but by by school districts around the country…

Texas students will be taught, for example, that the Founding Fathers really didn't believe in separation of church and state. This is a curious stance, because they will also be taught that Thomas Jefferson wasn't one of the inspirations for other 18th century revolutions. He's not well-liked by the conservatives, because he coined the phrase "separation of church and state." These are only two of the more than 100 curriculum changes made in service to an abridged history that stresses Christianity, capitalism and the influence of conservative ideology in our history. None of the board members, by the way, is an historian.


Adam Zyglis, Buffalo News, Buy this cartoon



Jimmy Margulies, New Jersey Record, Buy this cartoon



John Cole, Scranton Times, Buy this cartoon



Clay Bennett, Comics.com, see reader comments in the Chattanooga Times Free Press


Nick Anderson, Comics.com, see reader comments in the Houston Chronicle
:: ::
4. The Return of Martin Guerre Tiger Woods: Old Habits Die Hard


Mark Streeter, Savannah Morning News, Buy this cartoon



R.J. Matson, NY, New York Observer and Roll Call, Buy this cartoon
:: ::
5. Final Thoughts


Clay Bennett, Comics.com, see reader comments in the Chattanooga Times Free Press
:: ::
A Note About the Diary Poll


March Madness and Health Care by Dave Granlund, Politicalcartoons.com, Buy this cartoon

:: ::

After the MA Special Senate Election in January, did you think Healthcare Reform would still pass? Or, were you fairly certain that it was dead?

Share your thoughts and remember to take the poll too.
Loading ...