( – promoted by buhdydharma )
Crossposted at Daily Kos. If you choose to recommend it there, the Rec Button may have been pushed to the bottom after the last diary comment made.
THE WEEK IN EDITORIAL CARTOONS

This weekly diary takes a look at the past week's important news stories from the perspective of our leading editorial cartoonists (including a few foreign ones) with analysis and commentary added in by me.

When evaluating a cartoon, ask yourself these questions:

1. Does a cartoon add to my existing knowledge base and help crystallize my thinking about the issue depicted?

2. Does the cartoonist have any obvious biases that distort reality?

3. Is the cartoonist reflecting prevailing public opinion or trying to shape it?

The answers will help determine the effectiveness of the cartoonist's message.
:: ::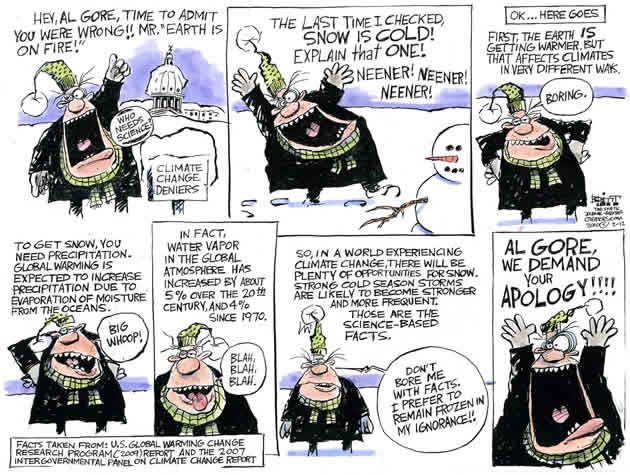 Chris Britt, see reader comments in the State Journal-Register (Springfield, IL)
PLEASE READ THIS:

As a reminder, please continue to support and recommend the Shelter Box and other diaries about Aid to Haiti. Thanks.

:: ::

Keeping Your Priorities Straight

Peter Bromhead, Dominion-Post Wellington and Sunday-Star Times, Auckland (New Zealand), Buy this cartoon
INTRODUCTION
Hoping for bipartisanship and achieving it are two entirely different objectives. A number of editorial cartoonists have concluded that it is unattainable in the current political environment (no surprise to many on this blog) and are pointedly urging President Barack Obama to ditch that laudable goal. Many of the cartoons imply that not only should the administration change course but play political hardball with the Republican Party. Marketing its own policy successes aggressively and effectively is not something the administration should shy away from. Absent this necessary change we can all believe in, the Democratic Party will almost certainly pay a heavy price in the November 2010 Elections.


RJ Matson, St. Louis Post Dispatch, Buy this cartoon
Dick Cheney emerged from the shadows last weekend to again issue another proclamation of fear and was lambasted for his irresponsible utterances on matters of national security. Other than Sarah Palin, few political figures are treated more derisively than 'The Dick' is. Given his past failures and contempt for the laws of the land, the man has almost no credibility with most of the cartoonists.
Record-level snow storms over the past few weeks in Washington, D.C. and much of the East Coast have brought out Climate Change denialists and skeptics in force, several of whom are portrayed here as having conveniently neglected to make the easy-to-understand distinction between weather and climate. A number of cartoonists mocked wingnuts for their anti-intellectualism and refusal to recognize or accept scientific evidence.


Joe Heller, Green Bay Press-Gazette, Buy this cartoon
Banking reform and leveling the playing field for consumers as well as enacting measures to improve the economy received a fair bit of play. The fate of Healthcare Reform in Congress remains uncertain. First Lady Michelle Obama launched an initiative to combat obesity among children. The opening of the 2010 Vancouver Winter Olympics was marked by tons of snow shipped to Vancouver, British Columbia and the sad episode of a Georgian skier's death. Some cartoonists chose the Olympics 'theme' in a creative manner to highlight other policy issues.
Finally, when Congressman Patrick Kennedy (D-RI) leaves the U.S. House of Representatives at the end of this year, it will break a string of sixty four years during which at least one Kennedy family member served in the United States Congress. Quite a streak.
Hope you enjoy the below editorial cartoons and my commentary on various issues and events. By the time I finish posting another 10-15 cartoons in the comments section of this diary, the number will approach 100 cartoons.
:: :: :: :: :: :: :: ::
SPECIAL COMMENT: Bipartisanship and Democratic Timidity
President Barack Obama campaigned in 2008 on changing the political culture of Washington, D.C. For those of us who live here, the political environment in this city is as toxic as it has been in recent decades. Trying to achieve any measure of support from the Republican Party for any of his policy proposals has been as difficult for Obama as finding the lost Ark of the Covenant.


Nick Anderson, Comics.com, see reader comments in the Houston Chronicle
There are certain things in life that are not achievable. The sooner the Obama Administration abandons this silly and elusive goal, the better off the Democratic Party — and the country — will be. The President can't pull a Harry Truman and blame the "Do-Nothing Congress" for obstructing big agenda items like Healthcare Reform, Climate Change legislation, and a robust jobs bill to stimulate the economy. Truman did just that in 1948 to wrest control of Congress from the Republicans and win the White House against all odds. The Democrats control both houses of Congress now and rather than trying to cover up irrational obstructionism by the opposition, Democratic leaders need to educate the country about what's holding up real progress. What the President can do is take credit for his other achievements and unleash his (almost) invisible cabinet members around the country to vigorously defend his administration's record. Sometimes, launching a daring offensive is indeed the best defense. Timidity will not work to his advantage. Otherwise, electoral disaster looms in the 2010 Congressional Elections!
It takes two to tango, as former Clinton White House Chief of Staff and Head of the Obama-Biden Transition Team John Podesta said in an interview with the Financial Times, the explicit suggestion being that it is time for a new political strategy


Pat Bagley, Salt Lake Tribune, Buy this cartoon

:: ::

Podesta thinks Obama should be willing to push things through without the cooperation of Republicans, he does give the President a certain degree of credit for his bipartisan attempts. "I think the president is trying to re-engage with Republicans, but, quite frankly, he's not dealing with the party of Lincoln. He's dealing with the party of Palin."

"They lost the narrative," Podesta acknowledged about the Obama Administration. "He's got a terrific cabinet. Use it. Get out into the country and use it."
Columnist Elizabeth Drew has an excellent article in the current issue of the New York Review of Books in which she states rather bluntly that bipartisanship was never in the cards. She lays out in great detail missed legislative opportunities early on last year to seal the deal on Healthcare Reform; ineptitude and passiveness with which the Democrats reacted to the Massachusetts Special Election; the inner workings of the United States Senate and dissension between the two legislative chambers; how the doings on Capitol Hill defined Obama and conveyed the politically-damaging impression that he wasn't providing leadership; and the bewildering insistence by many Democrats on working with the Republicans when it was common knowledge that the GOP always saw obstructionism as its path to regaining political power
:: ::

The Republicans had decided even before Obama was sworn in that they would use the rules to deny him success on every major issue. Such obduracy was without precedent in modern times. Even if they hadn't gone that far, it would have been impossible for Obama to achieve the bipartisanship he had so easily and naively promised in the campaign. The days of bipartisanship were already long gone. For sociological and political reasons, the electorate had changed; the center had just about disappeared. Former Senate Majority Leader Tom Daschle says that the last time the Senate acted in a spirit of comity was in the 1980s. The situation of 2009-2010 is different: it's not a matter of the two parties being unable to compromise on the substance of policy; it's a matter of one party deciding to deny the other any political achievements at all.
It is interesting to note that the Obama Administration has had a fair bit of success in the foreign policy arena. While it is true that the conduct of foreign policy is largely free from the pressures of and the constant need to pacify this or that political constituency, it is high time that the President asserted himself in matters of domestic policy. As he exhibited on numerous occasions during the 2008 Presidential Campaign, no one doubts that he has the necessary skills and abilities to do so. He needs to somehow recapture the magic that made him such a compelling political figure in that historic election year.


Lee Judge, Kansas City Star
In recent months, the Democratic Party has been losing the message war to the Republicans, as columnist E.J. Dionne wrote in the Washington Post.
What further evidence does it require to convince the Democratic Party that it must change course? If it hasn't been able to enact its legislative agenda with strong Congressional majorities, are the prospects any better after the Midterm Elections when the opposition party historically gains seats? As it is, anti-incumbent fever is running very high and it threatens Democratic control of both houses of Congress. Unless the party collectively learns to wield power and practice discipline, this opportunity to make progress will be lost for years, if not decades.
There are reports of a tougher White House approach emerging towards the Republican Party, in light of the above. As the late George Allen, legendary coach of the Washington Redskins football team in the 1970's, used to say, "The future is now."
:: :: :: :: :: :: :: ::
1. CARTOONS OF THE WEEK


Bruce Plante, Tulsa World, Buy this cartoon, see the large number of reader comments in the newspaper

:: ::

The recent spell of very cold weather in Washington, D.C. has brought out the worst in some politicians. Imbeciles like Senator Jim Inhofe (R-OK) never do nuance or subtlety. In terms of Climate Change issues, it is in the interests of his corporate sponsors that he obfuscate and sow seeds of doubt amongst the general public, scientific facts be damned. Unwilling to accept overwhelming consensus in the scientific community about the dangers of global warming, he continues to beat the drums of denial.

Opponents like Inhofe have seized on recent disclosures which point to minor errors in the U.N.'s Intergovernmental Panel for Climate Change (IPCC) 2007 report that resulted in a joint Nobel Prize for Al Gore and the IPCC. Scientists have countered that even such errors do not negate the basic factual finding: Climate Change is real and caused by human activity.

This wonderful column by Eugene Robinson in the Washington Post makes this distinction between weather and climate, even as he is, like most of us on the East Coast, literally fed up of the snow storms this winter.

One need not be a rocket scientist to know the difference between weather and climate. As the Smithsonian magazine explains it, some people are either being deliberately ignorant or act confused

Every time we write about climate change, someone writes in saying that they are shocked that Smithsonian would perpetuate such a myth. Don't we know about the record cold/snow/rain/etc. in Minnesota/North Carolina/Utah/etc.? Obviously, there are some people who do not understand the difference between weather and climate. Let's start with the dictionary definitions:

Weather: the state of the atmosphere with respect to wind, temperature, cloudiness, moisture, pressure, etc.

Climate: the composite or generally prevailing weather conditions of a region, as temperature, air pressure, humidity, precipitation, sunshine, cloudiness, and winds, throughout the year, averaged over a series of years.

In short, weather is a data point. Climate is a collection of data.



Tom Toles, Washington Post


Mike Thompson, Comics.com, see reader comments in the Detroit Free Press

:: ::

Thompson minces no words in going after the Republican Party. He accurately points out that the Marquess of Queensbury Rules that Obama wants to play politics under may be a nice and quaint idea but it has also failed miserably.

A different code of conduct is required to deal with the opposition party

For more than a year, President Obama has been trying to play ball with Republicans. Problem is, Republicans don't want to play ball with the president, they want to knock him onto the ground and steal the ball. Slowly, Obama seems to be waking up to that fact that Republican foot dragging on everything from presidential nominations to health care reform isn't motivated by ideological differences. Republicans want nothing to happen in Washington. They want bring government to a screeching halt and then run in November against Obama's "record of non-accomplishment."

After a year of trying to forge compromises, you can't say that Obama hasn't tried the bipartisanship route. But it's impossible to negotiate a compromise with members of a political a party who want only sit on their hands and run out the clock. And by now its painfully obvious that is the Republican plan.

It makes no sense for Obama to continue citing the rules of chivalry in combat during a barroom brawl.


Dave Granlund, Politicalcartoons.com, Buy this cartoon

:: ::

Dick Cheney was on ABC's This Week last weekend spreading fear and lies about the Obama Administration's policies on matters of nation security. Even as Cheney was doing his utmost to undermine confidence in the Obama Administration and trash its anti-terrorism policies, it was announced that the top Taliban military commander — second only in power and influence to the Taliban's shadowy founder and leader, Mullar Omar — had been captured in a joint Pakistani-American operation. Don't look for Cheney to issue an apology anytime soon.

Columnist Cynthia Tucker of the Atlanta Journal-Constitution wrote this scathingly critical piece on her blog in which she confronted the discredited former Vice President and his paranoid thinking. See the large number of reader comments in the newspaper

The former veep doesn't care if that means another successful terrorist strike kills thousands of Americans.

Cheney wants nothing more than to prove his dark, paranoid view of the world is right and that his penchant for torture was justified. He continues his criticism despite his own glaring failures – including pushing for the invasion of Iraq and allowing al-Qaida, and Osama, to regroup in Pakistan and Afghanistan…

That's why it's such stunning hypocrisy for Cheney and other Republicans to criticize the Obama administration for its handling of the Nigerian undie-bomber. Eric Holder's justice department is handling Abdulmutallab just like the Bush administration handled shoe-bombed Richard Reid.



David Fitzsimmons, Arizona Star, Buy this cartoon


Wall Streetwalkers by RJ Matson, St. Louis Post Dispatch, Buy this cartoon

:: ::

Can the Obama Administration reform Wall Street and introduce meaningful banking reform so as to avoid another financial crisis? It remains to be seen if it can. But, calls are growing to tame this wild monster lest it go on another rampage and devastate an economy which is, generously speaking, stubbornly resistant to creating new jobs and alleviating the economic misery of millions of people on Main Street.

Are major banks and private equity funds amenable to change and in favor of increased oversight by federal authorities? Hardly. In 2009, JPMorgan Chase, Wells Fargo, and Morgan Stanley led this group by spending almost $30 million on lobbying efforts, which represented an increase of 12% over 2008.

The Jakarta Post reports that Financier George Soros is among a growing chorus of influential people who are sounding alarm bells on the immediate need for reform

Billionaire financier George Soros, upon his visit to Jakarta on Wednesday, again stressed the need to improve global bank regulations to avoid another economic crisis.

Soros has repeatedly said that regulators have for years conducted hands-off policies that have allowed banks and other big companies to take risks that could endanger the financial system.

"The whole banking system has become globalized, but it has been operating on a false principle that the system can regulate itself," he told reporters in Jakarta after meeting Vice President Boediono at the Vice President's Palace.

"There is a globalization of market, but there is no globalization of regulation."


Bob Englehart, Hartford Courant, Buy this cartoon

:: ::

George W. Bush made a comeback of sorts last week. According to the U.K.'s Guardian newspaper, a group of businessmen in MN put up this billboard. Take the poll and see reader comments in the newspaper.

Was he welcomed back with open arms? Not by the Hartford Courant's Editorial Cartoonist Bob Englehart

We ran this photo of the billboard on Page A3 yesterday and I couldn't resist. Do I miss W? Do I miss polio? I can't think of one thing I miss about him. Fact is, if he were in charge, unemployment would be at 50 percent and we'd be at war with the whole world.

Even worse, the Queen of Hearts and her tea party would be running the country. If you want a feel for what that would be like, let your thoughts drift to Germany after World War I when all the wrong people gained power. Obama a Nazi, indeed. Look in the mirror, tea bagger, and see what hatred really looks like.

The sign depicted in my cartoon is the actual billboard in Minnesota. It was financed by some local businessmen with a bug up their seated parts. I don't usually combine art with photography, but this one works. Sometimes this job is way too easy.



RJ Matson, St. Louis Post Dispatch, Buy this cartoon
:: :: :: ::
2. More on Bipartisanship: How is it Working?
:: ::

Stein adds his voice to the chorus of editorial cartoonists and newspaper columnists criticizing the folly of bipartisanship. Is the administration getting the message?

Here we go again. Obama is reaching out to Republicans one more time, convening a health care summit in hopes of crafting a bipartisan bill with a party that wants nothing to do with bipartisanship. If anything, Republicans, emboldened by Scott Brown's surprise victory in Massachusetts, see obstructionism as the way to success at the polls…

Obama still seems reluctant to call the GOP out… President Obama, Mr. Cool, still refuses to raise his voice. The only people who seem to be genuinely angry, for all the wrong reasons, are the Tea Party loonies. Meanwhile, the country suffers.
:: :: :: ::
3. Weather vs Climate: A Distinction With a Difference


Jen Sorensen, Slowpoke, Buy this cartoon

:: ::

Altie cartoonist Jen Sorensen drew a cartoon a couple of weeks ago in which she directed a heavy dose of sarcasm towards Climate Change skeptics and denialists. Many of her readers didn't quite get it. In response, she drew this follow-up cartoon which is even funnier

Bad editorial cartoons suggesting winter weather somehow disproves global warming have been chapping my hide for weeks now. Brian recently alerted me to this blog, which actually collects them. (Scroll down to April 8 for a nice rebuttal.)

It doesn't take much effort to understand that snow is consistent with global warming and that 2009 was one of the hottest years on record (via BoingBoing).


Clay Bennett, Comics.com, see reader comments in the Chattanooga Times Free Press



Stuart Carlson, Universal Press Syndicate



Mark Streeter, Savannah Morning News, Buy this cartoon



Ben Sargent, Universal Press Syndicate



Bob Englehart, Hartford Courant, Buy this cartoon

:: ::

What motivates editorial cartoonists like Englehart to draw cartoons about Global Warming?

Ever since the winter games had begun, they've been talking about the warm weather and lack of snow in Vancouver. Some events had to be canceled and re-scheduled because of a lack of snow, or the air was warm enough to wreck the snow that was already there. Of course, whenever I hear about warm weather in the winter, I have to draw a cartoon about global warming.


East Coast Scream by Adam Zyglis, Buffalo News, Buy this cartoon
:: :: :: ::
4. Healthcare Reform: Can it Clear the Final Hurdles?


Chris Britt, see reader comments in the State Journal-Register (Springfield, IL), Buy this cartoon

Note: Read this excellent article (that I referenced above) by Elizabeth Drew in the New York Review of Books. It is an excellent summary on the future prospects of Healthcare Reform in the U.S. Congress.

:: ::



Health Care Summit by John Trever, Albuquerque Journal, Buy this cartoon



Matt Wuerker, Politico



Tom Toles, Washington Post



RJ Matson, St. Louis Post Dispatch, Buy this cartoon
:: :: :: ::
5. The GOP: Obstructionists and Hypocrites Extraordinaire


Nate Beeler, Washington Examiner, Buy this cartoon



Matt Wuerker, Politico



Obese Tea Partiers by John Cole, Scranton Times-Tribune, Buy this cartoon



Clay Bennett, Comics.com, see reader comments in the Chattanooga Times Free Press



Lloyd Dangle, Troubletown, Buy this cartoon



Mike Scott, NewJerseyNewsroom.com, Buy this cartoon



David Cohen, Asheville Citizen Times (NC)

I wrote this diary recently —

The Definitive Guide to Palin's Palm Reading — and in case you missed it, it has almost 30 more hilarious Palin cartoons.



GOP Principles by Pat Bagley, Salt Lake Tribune, Buy this cartoons



Stimulus Checks and GOP by John Darkow, Columbia Daily Tribune, Buy this cartoon



McCain vs Hayworth by David Fitzsimmons, Arizona Star, Buy this cartoon
:: :: :: ::
6. The Democrats: What Are They Afraid Of?
:: :

Nothing motivates elected officials more than doing everything in their power to ensure political survival. In years such as 2010 when anti-incumbent feelings are intense around the country, a new poll indicates little to no danger to elected Democrats in passing their agenda.

An article in Political Wire summarizes these findings

A new Public Policy Polling survey finds that 37% of Americans say they will definitely not vote Democratic for Congress this year, 34% say they definitely will and 30% are still up for grabs.

Interestingly, the "vast majority of opposition to health care and allowing gays to serve openly in the military is coming from people who already say there's no chance they'll vote Democratic this fall. That's an indication of minimal fallout for Congressional Democrats by acting on these issues."

Key takeaway: "Congressional Democrats really need to decide if they're going to let their agenda be dictated by voters who won't support them no matter what they do."


August J. Pollak, campusprogress.org



Ben Sargent, Universal Press Syndicate



Obama Tries to Herd Cats by Bill Schorr, Cagle Cartoons, Buy this cartoon



Clay Bennett, Comics.com, see reader comments in the Chattanooga Times Free Press
:: :: :: :: :: :: :: ::
7. Big Wall Street Banks: Too Big to Jail?
:: ::

An article in Mother Jones magazine asks this question about big Wall Street Banks and one on the minds of average Americans who lost dearly in the 2008 financial meltdown, Too Big to Jail?

MAYBE WALL STREET should open a casino right there on the corner of Broad, because these guys simply cannot lose. After kneecapping the global economy, costing millions their homes and livelihoods, and saddling our grandchildren with massive debt-after all that, they're cashing in their bonuses…

And why are bank stocks worth more now? Because of the bailout, of course. Bankers aren't being rewarded for pulling the economy out of the doldrums. Nope, they're simply skimming from the trillions we've shoveled at them. The house always wins. Indeed, 2009 bonuses are expected to be 30 to 40 percent higher than 2008's.


Wall Street Olympian by Pat Bagley, Salt Lake Tribune, Buy this cartoon



David Fitzsimmons, Arizona Star, Buy this cartoon



Hope and Jobs by Steve Greenberg, Freelance Cartoonist (Los Angeles, CA), Buy this cartoon
:: :: :: :: :: :: :: ::
8. Foreign Affairs: 'Punxsutawney Dick' Sees His Shadow, Six More Years of Lies


Ed Stein, Comics.com

:: ::

Stein takes Dick Cheney to task for making false claims against the Obama Administration's anti-terrorism policies and for redefining the rules of conduct for top officials of previous administrations.

Cheney's charges ring hollow as the War in Afghanistan is resulting in the capture or death of some of the top Taliban military commanders in the tribal areas of Pakistan

Hypocrisy is nothing new in politics, and neither side has a monopoly. That said, former vice president Dick Cheney is taking it to a whole new level with his constant attacks on the Obama administration's conduct of the wars in Iraq and Afghanistan and the handling of terror cases. Wasn't it just a few years ago that any criticism of the Bush/Cheney administration was undermining the morale of the troops, giving aid and comfort to then enemy and emboldening the terrorists. The word "treason" was even whispered in certain conservative circles. I won't even go into the long-standing tradition of previous administrations not criticizing the current one, especially in wartime. That rule no longer applies, either. I'm left to conclude that the Republicans will do and say anything to undermine any Democratic administration, no matter what the cost to the nation.
:: :: :: :: :: :: :: ::
9. Don't Ask, Don't Tell: The End is Near


Chris Britt, Comics.com, see reader comments in the State Journal-Register (Springfield, IL)

:: ::

The Chairman of the Joints Chiefs of Staff Admiral Mike Mullen learned something in a recent meeting with American troops stationed in Amman, Jordan: no one raised any issues or concerns with gays serving openly in the military.

Given the demands being put on members of the military and their families, a new Greenberg Quinlan Rosner poll indicates that public support for repealing the discriminatory DADT policy is at 54%. Even 40% of Republicans support ending this policy.


Bill Sanders, sanderscartoon.blogspot.com
:: :: :: :: :: :: :: ::
10. The 2010 Winter Olympic Games in Vancouver, British Columbia


Joe Heller, Green Bay Press-Gazette, Buy this cartoon



Damien Glez, Journal du Jeudi (Ouagadougou, Burkina Faso), Buy this cartoon



David Fitzsimmons, Arizona Star, Buy this cartoon
:: :: :: :: :: :: :: ::
11. Tiger Woods' Mea Culpa in the Age of Corporate Sponsorship


Chan Lowe, South Florida Sun-Sentinel

:: ::

Other than for achievement in their respective sports, long gone are the days when professional athletes like Jim Brown, Bill Russell, Mohammad Ali, and Kareem Abdul Jabbar were in the news for challenging society's mores and controversial stands they took on social issues. Today's sports controversies include personal failings and the impact it would have on the athlete's corporate sponsorships.

So is the case with Tiger Woods as the South Florida Sun-Sentinel's Editorial Cartoonist Chan Lowe notes on his blog

While the ritual of public self-humiliation, penance, expiation and redemption is as old as man–and follows its own strict set of rules–one never tires of the modern American riff on an old classic.

In the age of sponsors, the consequences of a celebrity's fall from grace are much more immediate — which is to say you can suffer a serious financial hit in this life, not to mention whatever might befall you in the next one…

So, to quote George Burns: "Sincerity is everything. If you can fake that, you've got it made."


Bruce Plante, see reader comments in the Tulsa World, Buy this cartoon



Paul Zanetti, Sydney Daily Telegraph (Australia), Buy this cartoon


Bob Englehart, Hartford Courant, Buy this cartoon

:: ::

Englehart reminds us that Tiger's personal failings are just that, i.e., personal, they are not unusual for a relatively young man, and that he owes us no apology

Does Tiger owe us anything? I mean, we're not his wife. Does he owe us an apology? It's really none of our business unless our business is Accenture, Gatorade or Nike. Maybe he owes his neighbor who was inconvenienced at 3 in the morning. Sex addict? Is that like being an oxygen addict? A clean water addict, is that a condition? I think all young men in their 20s are sex addicts. I know I was and so were my friends. Can I say that? I always told my children when they were young if you want to stay married for life, don't get married till you're 80. Is that too cynical? Tiger's big mistake was that he got married in his 20s.
:: :: :: :: :: :: :: ::
12. The End of The Kennedy Dynasty and Congressional Retirements


Dave Granlund, Politicalcartoons.com, Buy this cartoon

:: ::

Congressman Patrick Kennedy (D-RI) recently announced that he would not be seeking re-election in 2010 to a 9th term in the U.S. Congress.

Joseph Kennedy, the family patriarch, was the United States Ambassador to Great Britain from 1938-1940 in the FDR Administration. However, for the first time since a young John F. Kennedy was elected from Massachusetts to the U.S. House of Representatives in 1946, there won't be a Kennedy family member in either the U.S. House or U.S. Senate. JFK was also elected U.S. Senator in 1952 before moving up to the White House in 1961. Ted Kennedy served as U.S. Senator from Massachusetts from 1963-2009. Bobby Kennedy was U.S. Senator from New York from 1965-1968 before an assassin's bullet felled him. Bobby's son, Joe, served as a U.S. Congressman from Massachusetts from 1987-1999.

It's been a great run and the country is better off after decades of public service by this wonderful family. Will this development help to maintain this remarkable streak?


Pat Oliphant, Universal Press Syndicate

:: ::

Who do so many politicians only stumble upon the "truth" once they decide to leave the hallowed halls of the United States Congress? Kevin Drum provides the answer in Mother Jones

So why did he quit so suddenly? His official statement says he's frustrated with the Senate because there is "too much partisanship and not enough progress – too much narrow ideology and not enough practical problem-solving." Maybe. Alternatively, he's tired of taking hits from party liberals, who aren't exactly fans of his ostentatious centrism and bipartisan preening. That's pretty much Marc Ambinder's take: "He wanted to be POTUS and came to hate the Senate and liberal activists. He wanted no mas…

Pulling out at this late date is a pretty explicit show of pique, and an obvious gift to Republicans, whose odds of picking up Indiana in November just went way up. Bayh didn't quite give Democrats the finger on his way out, but he did everything short of it.



Mark Streeter, Savannah Morning News, Buy this cartoon



RJ Matson, St. Louis Post Dispatch, Buy this cartoon


Dave Granlund, Politicalcartoons.com, Buy this cartoon
:: :: :: :: :: :: :: ::
13. Final Thoughts


Jonathan Shapiro, Mail & Guardian (Johannesburg, South Africa), Buy this cartoon

:: ::

Finally, you may have heard that the Abbey Road Recording Studios in London, England is closing down due to financial problems. The Beatles, Cliff Richard and the Drifters, Pink Floyd, and several other legendary performers recorded some of their finest albums at the studio.

Nothing lasts forever.
:: :: :: :: :: :: :: ::
A Note About the Diary Poll


Joel Pett, Lexington Herald-Leader

:: ::

The administration's plate is full. From reviving the economy and creating new jobs to enacting Healthcare and Climate Change legislation to addressing a myriad of problems on the international front, it is grappling to resolve these thorny issues.

Obviously, how the Democratic Party fares in the 2010 Midterm Elections depends on a combination of factors and taking certain policy and political measures to minimize its losses. Still, were you to choose one thing that the administration absolutely must do, what would it be?

:: ::



Oliver Schopf, Der Standard (Vienna, Austria), Buy this cartoon
Loading ...