(10 pm. – promoted by ek hornbeck)
Many thanks are extended to those who provided suggested alternative titles for this series last week. A title that clearly, cleverly and completely explains the purpose of the diary, without being too lengthy, seems to present a daunting challenge. New ideas are still welcome, and perhaps after a few more weekly diaries, a poll of those suggestions will be offered on this site. Please stay tuned.
As always, this writer is indebted primarily to the wikipedia site for much of the information that follows.
Please note that there are many cover versions of this song to be found on various websites. Narrowing down the list to four versions was a very difficult task. Please feel free to add links to other favorites in the comments section that follows.
The featured song this week was recorded in Nashville, Tennessee, by its composer on November 6, 1967, and released as part of the album which was released on December 27, 1967. The genre of the original recording is listed as folk rock.
The composer of this song had spent the previous year, while residing near Woodstock, New York, recovering from a motorcycle accident sustained during the summer of 1966. Having exited the fast lane associated with touring, this composer became a family man and cultivated a growing interest in the Bible, as reflected in this song's lyrics, as well as other numbers he wrote around that same time.
No doubt, most readers have already correctly guessed the identity of this song several paragraphs ago, however, to avoid any further suspense, the featured song this week is Bob Dylan's "All Along the Watchtower."
Bob Dylan's original version of this song has been described as a masterpiece of understatement, as described by Andy Gill:
"In Dylan's version of the song, it's the barrenness of the scenario which grips, the high haunting harmonica and simple forward motion of the riff carrying understated implications of cataclysm; as subsequently recorded by Jimi Hendrix, … that cataclysm is rendered scarily palpable through the dervish whirls of guitar."
Locating a copy of the original version of this song, as recorded on the Dylan's album, John Wesley Harding, seems to be a near impossible task. It seems that, after hearing other versions of his song, his performances became attempts to imitate the interpretations of others. I have included an image of the album cover, along with what I believe to be a link to the original studio recording. Perhaps someone else might be able to translate the text on the site and/or come up with a better video version of the Dylan original. Here's the link.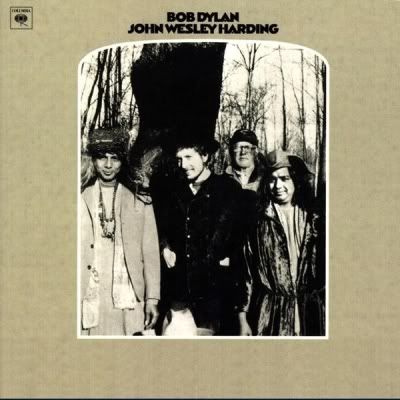 During a September 2, 1995 interview, Bob Dylan described his reaction upon hearing the Jimi Hendrix' version of this song, as published in the Fort Lauderdale Sun Sentinel:
"It overwhelmed me, really. He had such talent, he could find things inside a song and vigorously develop them. He found things that other people wouldn't think of finding in there. He probably improved upon it by the spaces he was using. I took license with the song from his version, actually, and continue to do it to this day."
In a booklet included with his Biograph album, Dylan further commented, regarding Hendrix' interpretation:
"I liked Jimi Hendrix's record of this and ever since he died I've been doing it that way… Strange how when I sing it, I always feel it's a tribute to him in some kind of way."
Hendrix' rendition of this song is undoubtedly the best known of many to follow and was released on September 21, 1968 — its genre listed as psychedelic rock. The single reached #5 in the British charts, and #20 on the Billboard chart. The song also occupies the #5 spot on Guitar World's list of 100 Greatest Guitar Solos. Hendrix' version appears at #48 on Rolling Stone's list of the 500 greatest songs ever. In 2000, the British magazine Total Guitar awarded it a #1 ranking among the greatest cover versions of all time.
Without further ado, here is the studio version by Hendrix:
And here's a very nice live version by Eric Clapton & Lenny Kravitz:
To conclude, here is the fourth version, an interesting live acoustic rendering of this song, as performed by Michael Hedges at Wolftrap in 1987:
For those who are interested, there are many additional cover versions available online by other artists/groups, including Dave Mason (who performed with Hendrix during his first recording session of this song in London), Neil Young/Bruce Springsteen, U2, Dave Matthews Band, Brian Ferry, Pearl Jam, Grateful Dead, Ritchie Havens, and many others.
Loading ...