Weekend News Digest is an Open Thread
This Saturday's Edition is being brought to you by TMC, so ek hornbeck can sleep late on his GrandDad's red leather couch at his family's Lake House for the Holiday. Buhdy, E.K., NPK, Mishima, OTB & All you DharmaDarlings, Happy Holiday to you and your families.
The Top News Story
Asia marks tsunami's fifth anniversary with prayer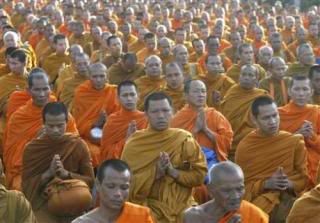 PATONG, Thailand (Reuters) – Thousands of candles lit up Thailand's Patong beach, thousands of saffron-robed Buddhist monks marched and people held vigils as Asia marked the fifth anniversary of the Indian Ocean tsunami on Saturday.

Hundreds of lanterns floated into the sky at Patong in one of many events across the region in memory of one of history's worst natural disasters when towering waves crashed ashore with little warning, killing 226,000 people in 13 countries.

"We came here to remember those who died," said Sainamphueng Kachan, 32, who lost 20 friends in the tsunami and was among the tourists, mourners and tsunami survivors gathered in bustling Patong to light candles dug into holes in the beach.

In Indonesia's Banda Aceh, about 100 people took part in a prayer ceremony close to a fishing boat that landed on the rooftop of a two-storey house after being swept miles inland.

Indonesia was the worst hit with more than 166,000 dead and missing. Massive reconstruction aid in Banda Aceh has rebuilt a new city on top of the ruins but survivors are only now putting memories of the disaster behind them.
I have a personal interest is the anniversary of this disaster since I spent 5 months there.