I mean this appearing on the front page?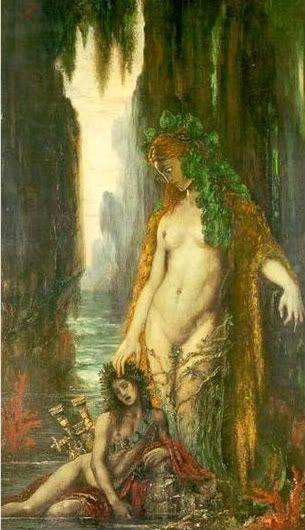 "Men are about power and sex, and the power to get sex.

Women are about sustaining the species.

Women love people more for their weaknesses, their humanity, are more forgiving.

Women don't war for "stuff"… they will only fight to protect their own, or someone they see as in need in of protection, the weak. "
As one who has actually gotten out of the house before, I can say with utmost certainty that women are just as capable of evil, greed, power mongering, stupidity, violence, environmental neglect, or any other loathsome human characteristic you can think of, as men are.
Goddess worship may seem appealing in the abstract. I myself, in my younger days, too saw its allure. As a young, idealistic environmentalist, I latched on to the whole idea of matriarchalism as an antidote for the very, patriarchal growth and expansion problem. But over the years, especially looking at real women in power, I've realized it's a fantasy.
I have no desire to debate that here though. Believe what you want. I don't care. I do have a problem with the sentence I highlighted though. "Men are about power and sex, and the power to get sex?" Really?
The writer presents both an idealized view of women (does Michelle Malkin fit in there) and a wholly offensive stereotype of men. Neither are remotely connected to reality and by no means deserve a spot on the front page here.
Divide and conquer has been the modus operandi for the plutocrats for a long time. And they do it well – gays against straights, christians vs. non-christians. Back in the day, blacks vs whites and women vs. men were very popular distractions from the class warfare being waged against us.
In fact, there has been a long history of plutocrat controlled organizations like the CIA infiltrating and supporting culture war groups just to inflame the divisions within the left. At one point, noted feminist Gloria Steinem was even on the CIA's payroll.
This has been accompanied by another plutocrat controlled entity, the mass media, coming in to fan the flames even more. This is how they conquered us. And it is all for one purpose, to rip you off. While the people have been fighting over comparatively irrelevant issues, like prayer in school and whether gay people can call it marriage or not, the plutocrats have been carrying your shit out the back door. They have been robbing you of your rights and your wealth. As a result, more and more of us are falling into poverty, sickness, and despair.
They've bankrupted our schools, our communities, governments. Right now an Alabama city is so broke it's closing down courthouses and laying off so many cops that it's now planning to call in the National Guard to maintain order.
Now you want to resurrect the gender war? As if there isn't enough division already?

Count me out.