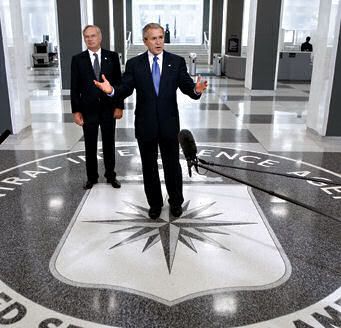 By Jason Leopold

t r u t h o u t | Report
Monday 23 March 2009

The CIA has about 3,000 documents related to the 92 destroyed videotapes that showed "war on terror" detainees being subjected to harsh interrogations, the Justice Department has disclosed, suggesting an extensive back-and-forth between CIA field operatives and officials of the Bush administration.

The Justice Department said the documents include "cables, memoranda, notes and e-mails" related to the destroyed CIA videotapes. Those tapes included 12 that showed two "high-value" prisoners undergoing the drowning sensation caused by waterboarding and other brutal techniques that have been widely denounced as torture.

The number of documents – but not their contents – was mentioned on Friday in a Justice Department letter from Lev Dassin, acting US attorney for the Southern District of New York, to US District Court Judge Alvin Hellerstein in response to a Freedom of Information Act (FOIA) lawsuit by the American Civil Liberties Union (ACLU).

Dassin told Judge Hellerstein that unredacted versions of the materials would be available for only him to review "in-camera" on March 26. The CIA also refused to provide the ACLU with a list of individuals who watched the videotapes prior to their destruction because that information "is either classified or otherwise protected by statute."

The number of relevant documents – "roughly 3,000," according to the letter – adds weight to the belief that CIA interrogators were in frequent communication with headquarters at Langley, Virginia, and with senior Bush administration officials who were monitoring the harsh techniques used and approving them one by one or even in combination.

The volume of communications also lends support to the suspicion that many officials were involved in the debate about what to do with the incriminating videotapes, not just one or two CIA officers acting on their own. CIA officials have said the videotapes were destroyed to prevent disclosure of how the agency's interrogators subjected "war on terror" detainees to waterboarding and other brutal methods.