( – promoted by buhdydharma )
I was quite young when I had my first sexual experience. It began at 9:45 am and ended rather abruptly, but relatively successfully at 9:49 am. Central Standard Time. On the morning of December 25, 1969. The bringer of that brief but memorable Christmas morning gift was a covertly adventurous "older woman" of 18 who lived next door, and was admired by mothers in the neighborhood as a "nice girl" who had no interest in "that hippie music" so many of their daughters listened to when they weren't busy "sassing their parents".
Unlike many first timers back then, who discovered paradise by the dashboard lights, I discovered paradise by the Christmas tree lights. I was concerned that my parents would come home earlier than expected from exchanging gifts at my aunt and uncle's and catch us, but the version of paradise I was experiencing would at least have enabled me to wag my finger at them and say "I did not have sex with that woman."
I wasn't concerned about my parents returning early for very long though, my attention focused rather quickly on the gifts being exchanged where I was, not where they were. Since that Christmas morning in 1969, I've found love and lost it, found it again and lost it again, but losing love the first time is so heartbreaking. Breathing the fire of rejection is no fun at all, but we get used to it. We have no choice. This world is filled with dark and lonely backstreets, where no one cares, where people just use each other, where love is all too often filled with defeat. But love is always worth seeking. It's worth seeking no matter how elusive it is, no matter how many years have come and gone, no matter how many times you've had to overcome defeat . . .
Some travelers through life are no longer interested in seeking love. They've had their hearts broken too many times and have a rather low opinion of it: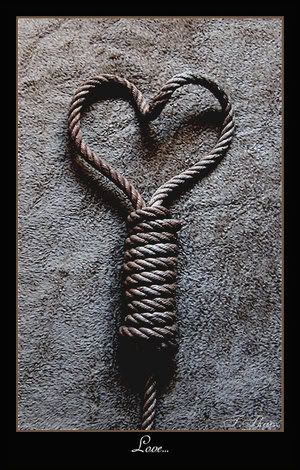 Others have somewhat higher expectations of love:
OK. REALLY high expectations.
Sometimes the high expectations of couples deeply in love are fulfilled, but all too often, love fades as the years pass. But love doesn't have to fade away and become just a bittersweet memory. If you love someone on this Valentine's Day 2009, make it count. Put on some music. Slow dance in the dark. Quit reading my stupid essay, find your way to the bedroom, savor the passion you inspire in each other, and just hope the roof stays on.
If you're alone, don't wait for the bells to ring. Find someone to ring them with you, and ring them like they've never been rung before. Hold each other. Love each other. Let the deep heart of the night set you loose from everything.
If your heart gets broken, if you have to scrape your tears up off the street, scrape them up, blink away the last tear, and never stop believing in yourself. Take comfort in the love your friends have for you, and your heart will heal. Then give your heart to someone again, that's what hearts are for.
Give your heart to America too. Progressives have big hearts and the wisdom to understand that love creates more love, at every level of society, while hatred only creates more hatred. There's so much hatred in the world, so much suffering, so much violence and loneliness and despair. Sometimes it seems we can hear the whole damn world crying. But don't lose your faith in humanity. Don't lose your faith in America. Don't lose your faith in love or your faith in yourself. Empower the love for others within you that all progressives have, and join together with them to bring change. Keep bringing change so we can end this dark age of selfish cynicism, keep bringing change so we can walk together into a brighter future . . .
Keep bringing change so we can will heal America. One broken heart at a time if that's what it's going to take. Give your heart to America this year and never stop giving it, so little people with big hearts won't have to live on the backstreets until the end, ignored and forgotten by big "leaders" with no hearts. Love America enough to fight even harder for democracy, so we won't have to live in a country where no one cares, where people just use each other, where love and caring and idealism are all too often filled with defeat.
If enough of us give our hearts to America, our children can live in a country where everyone matters, where life from the cradle to the grave is filled with love, where government of the people, by the people, and for the people isn't just a hollow phrase in a history book. We can redeem America, we can make it happen. If enough of us redeem love in our own lives, love can be redeemed across this country, and then across this world.
Loading ...