Magnifico reports today in his Four at Four on the Washington Post story today: Nuclear or Biological Attack Called Likely.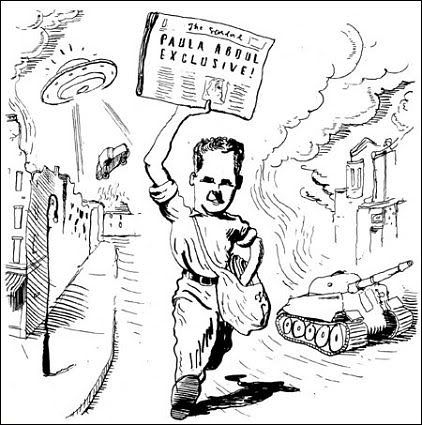 The story tells in a very serious "objectively journalistic" matter of fact manner of a new report produced by the "Commission on the Prevention of Weapons of Mass Destruction Proliferation and Terrorism".
WAPO's article notes that:
The odds that terrorists will soon strike a major city with weapons of mass destruction are now better than even, a bipartisan congressionally mandated task force concludes in a draft study that warns of growing threats from rogue states, nuclear smuggling networks and the spread of atomic know-how in the developing world.

The sobering assessment of such threats, due for release as early as today, singled out Pakistan as a grave concern because of its terrorist networks, history of instability and arsenal of several dozen nuclear warheads. The report urged the incoming Obama administration to take "decisive action" to reduce the likelihood of a devastating attack.

…

…the creation of the commission, chaired by former senator Bob Graham (D-Fla.), with former congressman James M. Talent (R-Mo.) serving as vice chairman, was one of the recommendations of the 9/11 Commission, which explored the causes of the 2001 terrorist attacks against the United States.

I don't recall the 9/11 Commission ever doing any "exploring" of the root causes of the 2001 terrorist attacks or of the root causes of the oppresssion and imperialism and the general foreign policies of messing internally with other countries militarily and via CIA fomented insurrections, destabilization campaigns, and false flag operations to fog the minds of Americans over the past six or more decades.
I don't recall the 9/11 Commission ever doing anything other than their job: creating justifications for the "war on terror" fearmongering and propaganda campaigns that replaced the "cold war" mentality of 'political rule on behalf of multinational corporate stripping the earth bare like a swarm of locusts the rest of the world's human beings are our property and resources to be used till exhausted with no regard for their humanity' American Exceptionalism that was behind all the lies and deceits of the ten year sanctions war and eventual invasion and occupation of Iraq that was directly responsible for the deaths, maimings and poisonings of over a million Iraqis; men, women, and children.
But "explore the causes"? Deluded misinformation at best, and pure manipulative propaganda at worst.
Boo! The boogeymen are out to get you.
This story is all over the left blogs today, and most of what I read is people lapping it up as easily and thoughtlessly as the 26 percenters lapped up all of Bush's years of Rovian manipulations, and using it as justification for "pragmatic" hide their heads in the sand denial of Barack Obama's obvious miltarist tendencies and full intentions to continue the war on terror memes and determination to militarily dominate the earth while blaming the blowback on "terrists" on behalf of the corporatocracy that rules America.
Have we learned nothing in eight years?
Glenn Greenwald: How Beltway reporters mislead the country

by: ek hornbeck

Sun Nov 25, 2007
I think this is the arena that we are most effective in, media criticism.

The press is a gang of cruel faggots. Journalism is not a profession or a trade. It is a cheap catch-all for fuckoffs and misfits – a false doorway to the backside of life, a filthy piss-ridden little hole nailed off by the building inspector, but just deep enough for a wino to curl up from the sidewalk and masturbate like a chimp in a zoo-cage.

(I)t (is) a low trade and a habit worse than heroin, a strange seedy world full of misfits and drunkards and failures. The business is a cruel and shallow money trench, a long plastic hallway where thieves and pimps run free, and good men die like dogs. There's also a negative side.

Objective journalism is one of the main reasons American politics has been allowed to be so corrupt for so long. – Stockton
I think this is the arena that we used to be most effective in, media criticism. But no longer, it seems.
What's LEFT Of Blogs?