The city of Mumbai is India's financial capital. India's New York City.
From Magnifico in his Four at Four today:
The Guardian reports Terrorist gunmen are holed up in Mumbai hotels. "About 10 to 12 gunmen remain holed up with hostages inside two Mumbai hotels and a Jewish centre, a top Indian general said today. Major General RK Huda told New Delhi Television that the rest of the gunmen appeared to have been killed or captured." 125 people have been killed and more than 325 wounded.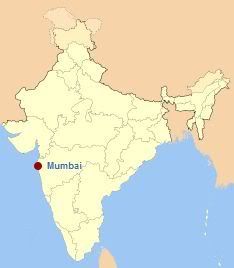 Mumbai (Marathi: ?????, Mumba?, IPA:[?mumb?i] (help·info)), formerly Bombay, is the capital of the Indian state of Maharashtra and the financial capital of India. With an estimated population of 20 million, it is one of the most populous cities in the world. Along with the neighbouring suburbs of Navi Mumbai and Thane, it forms, at 19 million, the world's fifth most populous metropolitan area. Mumbai lies on the west coast of India and has a deep natural harbour. Mumbai's port handles over half of India's maritime cargo.

Mumbai is the commercial and entertainment centre of India, generating 5% of India's GDP and accounting for 25% of industrial output, 40% of maritime trade, and 70% of capital transactions to India's economy. Mumbai is one of the world's top ten centres of commerce by global financial flow, home to important financial institutions such as the Reserve Bank of India, the Bombay Stock Exchange, the National Stock Exchange of India and the corporate headquarters of many Indian companies and numerous multinational corporations. The city also houses India's hindi film and television industry, known as Bollywood. Mumbai's business opportunities, as well as its high standard of living, attract migrants from all over India and, in turn, make the city a potpourri of many communities and cultures. –wikipedia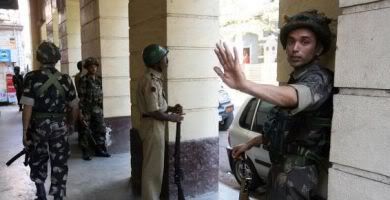 PRAKASH SINGH/AFP/Getty Images

Indian army personnel taking position at Mumbai's Taj Mahal hotel on Nov. 27
Commandos are fighting to clear the last gunmen from two luxury hotels in Mumbai, more than 24 hours after a series of attacks across the city.



The Taj Mahal hotel was nearly free of gunmen, officials said, but operations continued at the Oberoi-Trident hotel.

At a third stand-off, at a Jewish centre, seven hostages were freed, a security official said.

Indian PM Manmohan Singh vowed to track down the attackers, who have killed at least 119 people and injured 300.

Gunmen targeted at least seven sites in Mumbai late on Wednesday, opening fire indiscriminately on crowds at a major railway station, the two hotels, the Jewish centre and a cafe frequented by foreigners.
George Friedman's STRATFOR (Strategic Forecasting, Inc.) has produced an early tentative analysis of possible geopolitical repercussions from the attacks in Mumbai.
Let's hope that STRATFOR is not as on the mark with this analysis as they usually are:
PAL PILLAI/AFP/Getty Images

A fire in the dome of the Taj Hotel in Mumbai on Nov. 26
Red Alert: Possible Geopolitical Consequences of the Mumbai Attacks (Open Access)

Stratfor, November 27, 2008

NOTE: As Stratfor is a paid subscription site, some of the links in this article may lead to a subscriber wall, while some will be Open Access.

Summary

If the Nov. 26 attacks in Mumbai were carried out by Islamist militants as it appears, the Indian government will have little choice, politically speaking, but to blame them on Pakistan. That will in turn spark a crisis between the two nuclear rivals that will draw the United States into the fray.

Analysis

At this point the situation on the ground in Mumbai remains unclear following the militant attacks of Nov. 26. But in order to understand the geopolitical significance of what is going on, it is necessary to begin looking beyond this event at what will follow. Though the situation is still in motion, the likely consequences of the attack are less murky.