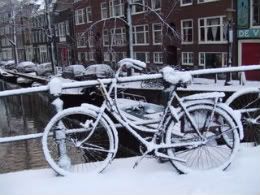 Cross-posted from the new, improved, Burning the Midnight Oil blog and grill.
It is now well known around the place where I work that I not only, oddly enough, bike to work, but that I do not have a car at all. And so, one of the things that brings a smile to my face when I'm at work is the worried queries how I'll get to work when winter sets in.
I smile because last December I was biking 14 miles up to the warehouse in snow, sometimes feeling like counting my toes when I arrived to make sure they were still there. Given that, a bit under three miles to work this winter is far from daunting. But it is far from the imagination of the small town / exurban Buckeye, who view bikes primarily as fair weather recreational kinds of things.
Now, having gone through it before does not mean that I laugh, LAUGH!, in the face of the Ohio Winter, but rather that I know enough to cope with it.