(Midnight – promoted by ek hornbeck)
Cross-ranted from WWL
The Rude Pundit has a nice rude piece up about McStain courting bikers in Sturgis… even offering up his wife for a topless/sometimes bottomless Beauty Pageant.
Hell he coulda entered her in the Sturgis Tractor Pull: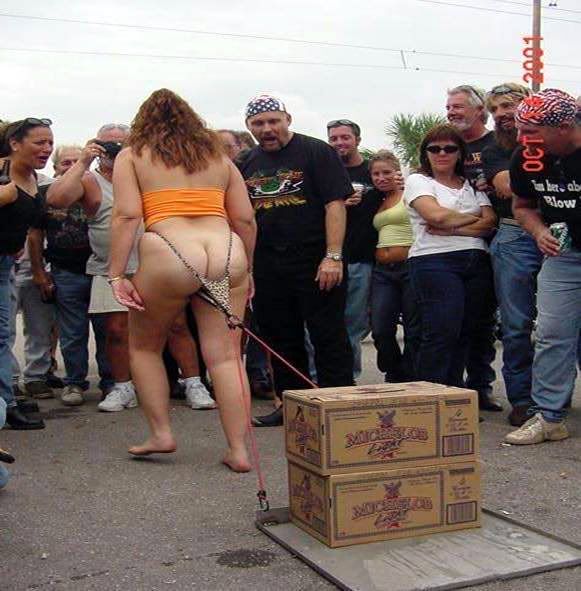 'Sprised he didn't offer her to pull a * train for them. (* that has whole different meaning, ifygmd..) He has no respect for her, none for women generally, you know, we are Cunts who pack on the War Paint.
Now, I am not squeamish about the human body. I wish we could all go naked and get over ourselves and our anal-retentive fixation with covering and uncovering the human body.
I also think its a woman's prerogative to flash her tits if she wants. What I'm not so-very-fucking fond of is a man offering up his "bitch" like she is HIS property.
As the Rude One said… (my Bold)
Of course, John McCain won't have to pay any price for making an appearance at an event known and celebrated for its public drunkenness and fucking for an audience, not to mention dressing like (and in some cases actually being) outlaws. Imagine if it was a bunch of black people doing this, booty-shakin' in thongs, wearing gang colors, and downing 40s, and Barack Obama showed up to speak, and you pretty much can assume that Bill O'Reilly's neck veins would pop and shower his set with arterial spray. But because it's good ol' boys and girls? Well, that's just goddamn American fun.
Worse yet, he tried to to talk to them about gas prices. What a fucktard.
But, hey, shit, McCain wants some working class cache', then he can leave one of his family's seven houses to stand on a stage next to Kid Rock's equipment at the Buffalo Chip Campground and work it.
Loading ...