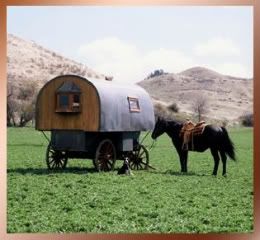 I just recently discussed Tiny Houses as one extreme end of a range of a more sustainable approach to housing. And, because they strike me as really cool, the examples I focused on where the kind of Tiny Houses that can be picked up, put on a trailer, and hauled around, like an old fashioned Shepherd's Wagon, except with inside plumbing, excellent insulation, and 11 foot ceilings in the main living space.
Mind you, I always thought that the old-fashioned Shepherd's Wagon was kind of cool, so add all those "except for's", and its no surprise I thought these were cool.
However, just as cool in their own way are the Tiny Houses intended to be built from modular parts on a foundation on site. And as a one-time Mother Earth News reader (back when it was more of a back to the land for dirty stinking hippies magazine), I was interested when the Tiny House Blog mentioned that the post-80's yuppified "Mother Earth News" has been recently focusing heavily on SIP's, or Structural Insulated Panels.